This week's caracola is a quiz with a Spanish flair, one I put together for the Blue Sky Café on Friday night for the curious and the kind, including the winning team Turmi. Come along next Friday if you're interested in some guaranteed fun. I list three of the more Spanish tinted rounds below. Reading Caracolas helps with the answers.*
ROUND 1. SPANISH/HISPANIC LIFE
1. What are the 4 autonomous communities that border El Mar Cantabricó?
2. Who is the president of Argentina?
3. What is the capital of Trinidad and Tobego?
4. The 3 ships of Christopher Columbus (Cristóbal Colón) were the Niña, the Pinta, and which other ship?
5. Who is the Cuban American Republican senator of Florida?
6. Which 1957-born Cuban-American singer is self-styled with "an American head and a Cuban heart?"
7. By what name is the painter Doménikos Theotokópoulos better known?
8. In which year did the events depicted in Francisco Goya's May 2 and May 3 paintings in the Prado occur?
9. In which year was Pablo Picasso's Guernica first displayed at the World's Fair in Paris?
10. Which Mexican painter did Salma Hayek play in the 2002 movie?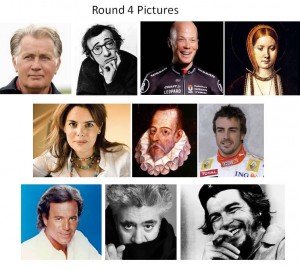 ROUND 6. HODGE PODGE
1. In which century was the first circumnavigation of the world?
2. In which century did Galileo Galilei die?
3. Who invented the telephone in the 1870s?
4. Which mobile phone company now sponsors La Puerta del Sol in Madrid?
5. Who won the most recent Champions League?
6. Who won the 2013 Spanish Grand Prix in Barcelona?
7. What are the two official languages of Canada?
8. In which country do they speak tagalog?
9. In which country do they speak the occupation-related cant Xíriga?
10. According to Ahora Caigo, which Spanish writer has the most streets named after him?
Eamonn Ryan, the former Irish Minister for Communications and current Green Party chairman, stated on a late-night talk show that half of all blogs are read only by the blogger. I think that's a bit harsh, and certainly not true if one includes machine readers. According to my stats, I am very popular – my current comment total is over 1,000. Unfortunately, 999 are from spam-bots, most of which are of the Japanese and Italian gibberish variety with their imbedded links. (Thanks Terri for the only real one so far).
After wondering why anyone would bother, even a spam-bot scammer, I learned that a link back increases a site's search engine performance. It would seem worth it to send a billion spam messages if 20 get linked back to the spam site and a coveted first-page on Google. With most blogs, however, that's hard to do, since comments are automatically filtered into a spam folder to which one just presses Empty Spam without having to wade through the muck.**
So far, my spam filter has been filled with postings for Viagra, Canada Goose replica jackets, NHL, NBA, and MLB shirts, and thousands of gibberish mail from spambot operators using open proxy IPs for supposed "known cyber criminal activity."
Some must get through though, otherwise why would they bother. Or if one falls for the flattery of the less gibberish minded. I let two comments through in a moment of comment loneliness (they were in Spanish at least). I trust their traffic has sufficiently increased because of my vanity.
Some are quite funny, however, in an over-the-top obsequious way, guaranteed to tickle anyone's inner Like button, including these that made my day:
"Excellent article. I absolutely appreciate this site. Stick with it!" Thanks for the encouragement.
"Spot on with this write-up, I truly believe this site needs a lot more attention. I'll probably be returning to read more, thanks for the advice!" Probably the best B.S. in the world.
 "You completed several nice points there. I did a search on the subject matter and found mainly people will go along with with your blog." Nice to know I am mainly in the plain.
 "Of course, what a magnificent blog and informative posts, I will bookmark your blog. Best Regards!" But of course.
 "I glad your article isn't boring. You have put a lot of spice in your views and made this interesting reading. This is great info that's loaded with persuasive wording for thinking readers. Thank you." The associated link was for a blog at medicalmarijuanalisting.org.
But none were better than these two:
 "You need to take part in a contest for one of the greatest blogs on the net. I most certainly will recommend this site!" Why thank you. Where do I sign up?
 "I would name your site the dreamland! While Father Christmas knocks at our door just once per year, you blog is open the whole year – wow!" I am better than Father Christmas. I only hope I can keep it up.
I have to say, it seems like a lot of effort to butter me up. But, thank you to all the well-wishers, even if you are only a bot on my webscape. Alas, I am no longer the flattering kind. Empty Spam.
 * Answers available by contacting me (e.g., in a blog comment). Link backs available with a smile.
** That is, with the Akismet plugin.