I've been here a while, so I should know a few things by now. Hands down the best place to live in Spain is Asturias. Well, according to my list as weighted by my spreadsheet. Maybe your list as weighted by your spreadsheet is different.
Here's my list for each of the seventeen regions (a.k.a. autonomous communities): area, population, sloped surface percentage, coastline, population density, purchasing power, unemployment, number of towns, number of blue-flag beaches, and number of tourists. In my weighting, I've opted to maximize the importance of sloped surface percentage, coastline, purchasing power, and the number of blue-flag beaches, while minimizing area, population, population density, unemployment, number of towns, and tourist numbers.
That makes Asturias the winner with 401 km of coastline, a PP per capita of $28,271 (lots considering the very affordable price of food), 16 blue-flag beaches, and 81% sloped surface! You can ski and surf in Asturias (though not at the same time). You can walk up and down hills all day long and along as many beaches as you want. You can eat some of the best fish and seafood in the world.
After Asturias are Cantabria and Galicia, two other regions in the north of Spain. Okay, I know what you're thinking, I fudged the data. If I were to chose another 10 factors or weight the data differently, I could make anywhere the best place to live in Spain, such as Extremadura (no coastline, yet one blue-flag beach!) or Ceuta and Melilla (only one town each in exotic north Africa, but absolutely flat and crowded) or the Canaries (all coastline, but very touristy with no industry jobs).
It's true, one can weight data to make Barack Obama the best president ever (best teleprompter reader, lowest golf handicap), Lady Gaga best artist (most costume changes, least clothes), or Ronaldo the best footballer (best hair, cutest smile). Here is my spreadsheet to see how one region comes out on top, which you can download to change the numbers and see.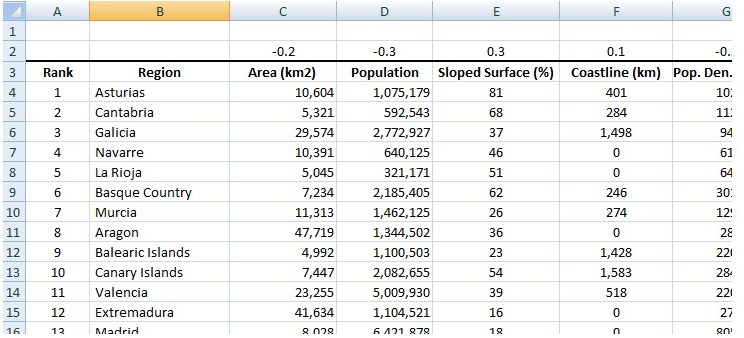 Asturias is your place if you like fabada, arroz con leche (rice pudding), and cider (over 100 varieties). And you'll love it if you like coastline (known as the Green Coast), beaches (they are everywhere along the 401 km), sloped surfaces (including the famed Picos de Europa) as I do. There's even a brand new finished highway to take you from the Cantabrian border to the Galician border in comfort and style.
Things to do in Asturias include the world-class Niemeyer conference centre in Avilés, Neolithic cave drawings in Tito Bustillo or Candamo that are almost as exquisite as those in nearby Altamira, and kayaking in the rapids of el Sella near Covadonga. And don't forget the gastronomy and the people – as good as it gets on anyone's list.
Download the spreadsheet to change the weightings and make your own favourite place to live in Spain!