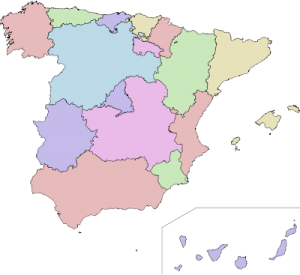 There are 17 so-called autonomous communities* in Spain (what we would call states or provinces or counties), which were formally created in 1978 by the Constitution of Spain after Franco's 40-year regime ended with his death and Spain returned soon after to democracy. Some are more independent minded, e.g., the Basque, Cataluña, Galicia (which all have significant nationalist aspirations) and all have varying levels of self-government. Four border el Mar Cantábrico in the north of Spain, namely from the French border to the Atlantic Ocean, País Vasco, Cantabria, Asturias, and Galicia.
Pronunciation ASIDE (V and stress) A few points of order: the V is sounded as a B in Spanish, hence 'Vasco' is sounded as 'Basco.' Furthermore, all letters are pronounced (making Spanish easier than French for English speakers) and thus 'País is 'Pie-ees' with the stress on the second syllable. By default, without an explicit stress mark (here over the i, í), the stress would be on the first syllable as is typical with most two-syllable Spanish words.
Unlike the Costa del Sol in the south where temperatures routinely hit the 40s in summer and where most of Spain's 60 billion annual tourists flock, the Costa Cantábrica is less developed and less touristy, the temperatures more bearable, and the scenery more rugged (the so-called Green Coast or Costa Verde is entirely in Asturias, from Llanes east of Gijón to Castropol on the Galician border).
Tourist access from abroad is easy with main airports in Bilbao, Santander, Oviedo, Santiago de Compostela, La Coruña, and Vigo, and is already serviced in part by existing tourist routes along the famed "Camino de Santiago" (more about The Way of St. James later).
The main cities are all connected by the Autovia del Cantábrico, roughly 600 km from San Sebastián on the French border to La Coruña on the Atlantic (aka the AP-8 in País Vasco and the E-70 in Galicia). An ideal trip would be to fly into San Sebastián and drive to La Coruña via Bilbao, Santander, and Gijón, stopping whenever along the way. The Cantabrican autovia or autopista is a first-rate national road most of the way (i.e., two separated two-lane highways) with sweeping views and long viaductos through scenic sierras and across sloping valleys. Work continues on three unfinished stretches (in Llanes, Luarca, and Mondoñedo), otherwise the drive is uninterrupted.
There are numerous inlets, beaches (the best that I've seen so far in Asturias are in Ribadesella and Llanes), and other points of interest, not least of which are the Frank Geary-designed Guggenheim Museum (in Bilbao), El Palacio de la Magdalena (or royal summer palace in Santander), Los Picos de Europa (a mini Alps bordering Cantabria and Asturias), Covadonga where the Christian Reconquista of Spain began in 722 (in Asturias), Santiago de Compostela (including the conchal Peter Eisenman-designed Cidade da Cultura), and the Torre of Hércules, the oldest functional lighthouse in the world (in Galicia).
So, why do we call the large body of water north of Spain the Bay of Biscay, especially since no one in Spain does? The name is an outdated misnomer, referring to an old provincial term in País Vasco, where there are three traditional provincial names: Alava, Guipuzcoa, and Vizcaya. Biscay comes from Vizcaya. I suppose, Cantábrico is a little better since it at least refers to Cantabria, one of the four bordering autonomous communities, but I think the Autovia del Cantábrico says it best. The sweeping views of the sea are not to be missed on any northern adventure in Spain.
Pronunciation ASIDE (ll, g, j) The double l in Spanish is sounded as a y, hence 'am-a-ri-yo' for amarillo (yellow), Yah-nays for LLanes, and 'pie-eh-ya' for paella, which some English speakers still call 'pie-ell-ah,' the most recognized Spanish comida made of rice, seafood and saffron. The ll as y is not hard to get used to. 'G' and 'j' on the other hand are harder for the English speaker. The j is always an h sound, hence Havier for Javier or hamón for jamón. It isn't too gurgly with practice. The G is also an H at the beginning of Gi words, such as Gijón, thus He-hawn (with the stress on the second syllable). Gibraltar is Hibraltar. All other G words are sounded as we sound g, thus guitarra as gee-tar-ra and guiri as gear-ree, an English-speaking person living in Spain, not I am told a pejorative, something akin to how one might refer to a Mexican-American as Hispanic.
 * 17 Autonomous communities: Andalusia, Aragon, Principality of Asturias, Balearic Islands, Basque Country, Canary Islands, Cantabria, Castile-La Mancha, Castile and León, Catalonia, Community of Madrid, Extremadura, Galicia, La Rioja, Region of Murcia, Navarre, Valencian Community